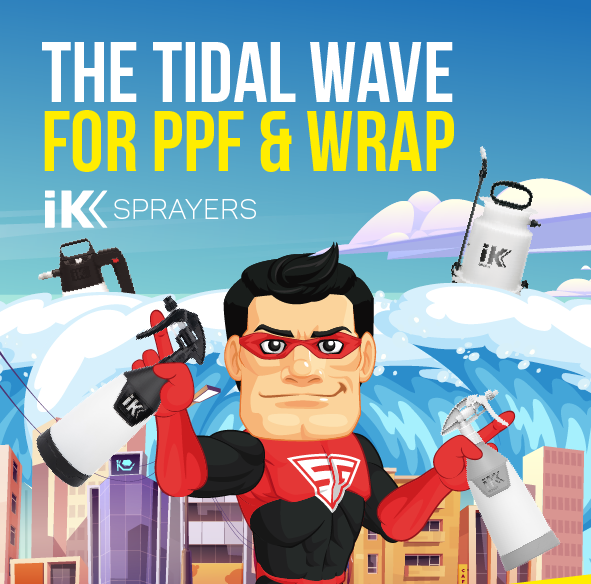 It's been a sunny week in Printropolis and many of our citizens were enjoying some well earned time off at the beach. That was until they heard an almighty ROAR from the ocean... The seas pulled back and then suddenly a giant tidal wave came crashing towards the city. (They don't have much luck round here do they?)
Anyway, the destruction would have been massive if it wasn't for the new IK Sprayers Signman had conveniently armed himself with and flew in. They consumed the tsunami and sprayed it right back into the sea, not a single citizen was harmed.
The ultimate 360° professional handheld spray bottle.
Suitable for use with a wide range of cleaning products, the Multi TR Mini 360 will spray in any position - even when upside down!
Its handy 600ml size is perfect for working even in tight areas, such as general cleaning or applying solutions prior to window tint, for example.
IK SPRAYERS HAND TRIGGER SPRAYERS
The professional, attractive handheld spray trigger bottle.
Features a unique, super ergonomic spray trigger head which is more comfortable for even extended periods of use.
Sturdy base for enhanced stability and translucent tank with level indicator.
This pressured foam sprayer provides optimum results with foaming solutions. Create a dense, permanent foam for a quick, easy and even application every time.
Select from hand pressurised only (IK FOAM Pro 2) or hand pressurised with Compressed Air Connector (IK FOAM Pro 2 +).
The FOAM Pro 2+ has an inlet valve located in the sprayer head that allows the insertion of air into the tank thanks to its universal schrader valve for connectors worldwide.
Supplied with three mixer nozzles - orange (wet foam), grey (intermediate foam) and green (dry foam).
IK SPRAYERS WINDOW TINT & PPF SPRAYER
A unique heavy duty sprayer designed solely with Paint Protection Film, Window Tinting and Wrapping in mind.
PPF and Window Tint are particularly demanding of a high volume of water or specialist solutions during application. Save time re-filling smaller containers with this purpose-built 12L capacity sprayer. Its high quality stainless steel (INOX) chamber and tank are built to withstand daily professional use.
Features a 4m/13ft spiral compact hose to prevent a trailing hose dragging while you work, reducing the risk of agitating dust into the atmosphere and affecting your application.
Plastic operating handle removes the risk of damaging paintwork whilst spraying your solution onto the substrate. When not in use, simply hook the trigger onto the integrated storage hanger to keep your nozzles clean and in good condition.
With a stable base and integrated foot supports, there is room to place your feet whilst hand pressurising the tank for enhanced comfort, or better still - take advantage of the standard schrader valve and attach your air compressor line for fatigue and interuption free working!